Cervin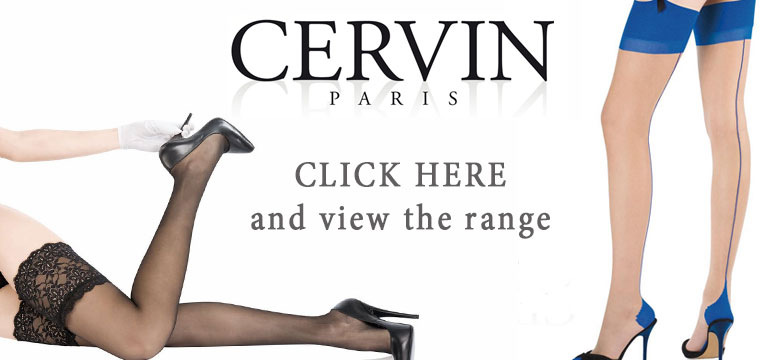 Cervin is one of Paris' oldest leg wear manufacturers and a very important leg wear brand in the world of stockings.
What exactly is so special about this particular name? So much in the leg wear world wouldn't be here without Cervin. They helped pioneer fully fashioned stockings, kept the back seam alive for decades after it created, they have single handedly revived 1940s styles and they are one of only a handful of designers that are still producing their beautiful leg wear in Paris to this day.
This site is dedicated to Cervin's stockings and the legacy of one of traditional hosiery most respected houses and a place you can come to learn more about their work and achievements. We'll have plenty of news about Cervin Paris and tonnes of images that dispalys all the most beautiful new additions to their line up.

Click any of the links at the top of the page and you'll go to a different page with a bunch of other interesting information about the very best leg wear brand in the world. If you see any images on our site, and you want to take a closer look and maybe find a pair of your own, simply click the image. This should take you to one of the merchants and retailers online that Cervin items can be purchased from.

CERVIN Paris, the nylon stockings brand whose French savoir-faire perfectly symbolizes seductive stockings just like Edwardian seam stockings. This very essence of past memory, is today on the luxury hosiery house CERVIN service to produce exceptional items. The pure crystal nylon Edwardian seam stockings reveal to you enchanted details. CERVIN Paris stockings are of attractive colours, with the originality of bicolour opaque seam stockings for a different but wonderfully sexy look and feel.